Our anti-slam soft close cabinet door dampers are perfect for providing gentle and silent door operation. The damper engages right before the cabinet door closes and prevents damage to the hinges. Our kitchen cabinet damper system is maintenance free, works with many styles of cabinets, and includes all of the required hardware. Installation is easy and provides a life time of service. Just follow the quick start installation guide below!
Quick Start Guide
1.
First, locate the correct corner to install the damper. Always use the top corner closest to the cabinet door hinge. Hold the bracket in place to mark the screw hole locations.
2.
Drill a pilot hole with a 3/32" drill bit, about a quarter inch into the mounting surface. This will make installing the mounting screws much easier. After you have the pilot hole drilled, tighten the screws provided.
3.
Finally, use the provided mounting hardware to attach the soft close damper into place, and test the operation of the damper, and adjust as necessary.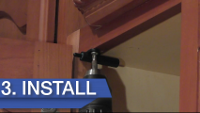 FREE SHIPPING ON ORDERS OVER $50 DOLLARS!